Top 10 Reasons Why Youth Should Choose Perth County
#HomeGrownInPerthCounty followers,
As you may know by now, I love Perth County and want to encourage youth to consider making a life here because this is such an amazing area. With this in mind, let me share with you the top 10 reasons youth (or anyone for that matter!) should choose to make Perth County home...
1. Become a First Time Homeowner
As a young person, a goal that is on the mind of many is becoming a first time homeowner! In 2016, the median housing prices in Perth County for a single detached home was $286,478. This is far more attainable for youth when compared to a house with the same square footage in the Greater Toronto Region which costs on average $1,015,067.
"We chose to build a home and a life here because Perth County offers us opportunities not possible anywhere else. Being 22 and owning your own home typically isn't possible in large cities, but the affordable housing and low cost of living in small town Listowel made this achievable for us." -Ashley, Perth County Resident
2. The Field is Bigger Than You Think: Land Your Dream Job in Perth County
As youth, we are often told that in order to be successful, we need to leave our small town – this could not be further from the truth! Whatever your interest is, there is a job in Perth County for you! In 2019, 91% of Perth County employers said they planned to hire – this is extremely good news for new grads or other young people looking to settle into a career. Coinciding well with the current hiring climate, Perth County has an unemployment rate of 4.0% which is significantly less than the provincial average – we have a very active workforce here! Check out these career cards to see some of the jobs available within Perth County's most popular sectors or see the chart below showing the region's labour force by occupation.
Aside from good job prospects, why choose Perth County to work? Being a rural area, there is less competition both within a company and externally – you are more likely to be promoted faster than you would at companies located in urban centres. Building a book of business and a loyal clientele is also easier in a rural area like Perth County, the community here is amazing and people want to support local more than ever. The average commute time in Perth County is ten minutes; this is substantially less than that which an individual in the GTA would have to drive every day. Who wants to lose two hours each day driving back and forth to work? Choose Perth County and your ten minute commute can include seeing the sunrise and sunset on the picturesque rural landscape we are surrounded by.
"You can see the stars when the sun goes down. There aren't oversized flashy billboards everywhere you look, and you don't spend hours commuting to and from work, surrounded by thousands of other people." – Monica, Community Outreach Worker
"[In cities,] there is a ton of competition, so many people fighting for jobs. In a town like Listowel, you can and will work your way up at a professional firm. You will feel appreciated and valued as a young professional in a small town." – Becca, Accountant
3. Have Everything You Need and Lots to Do
There is a common perception that in rural areas there is nothing to do. Ask anyone in our rural communities and they will tell you this is false - we do indeed have a wide variety of services, amenities, and things to do! Perth County has 26 elementary schools and 3 secondary schools. As an individual looking to start a family, you can feel a sense of relief knowing that we have plenty of educational options for your children – each of which that will cultivate humble, successful and happy students.
Geographically within Perth County, there are three hospitals and a handful of clinics all staffed with highly skilled doctors, nurses, and other medical personnel. When necessary, we also have access to large healthcare centres that can serve us to meet any specialized needs.
Beyond education and healthcare, our communities seek to foster a sense of community and social opportunity for its citizens. There are countless parks, community centres, pools, trails and other amenities that allow us to enjoy the outdoors, partake in sports teams or other activities.
While we don't have all of the luxuries of urban centres, we have so much to offer including restaurants, breweries, shops and other activities. Check out Perth County's Discover More brochure to check out all this region has to offer for your social life – plan to enjoy your next 'date night' or 'family day' right here in Perth County!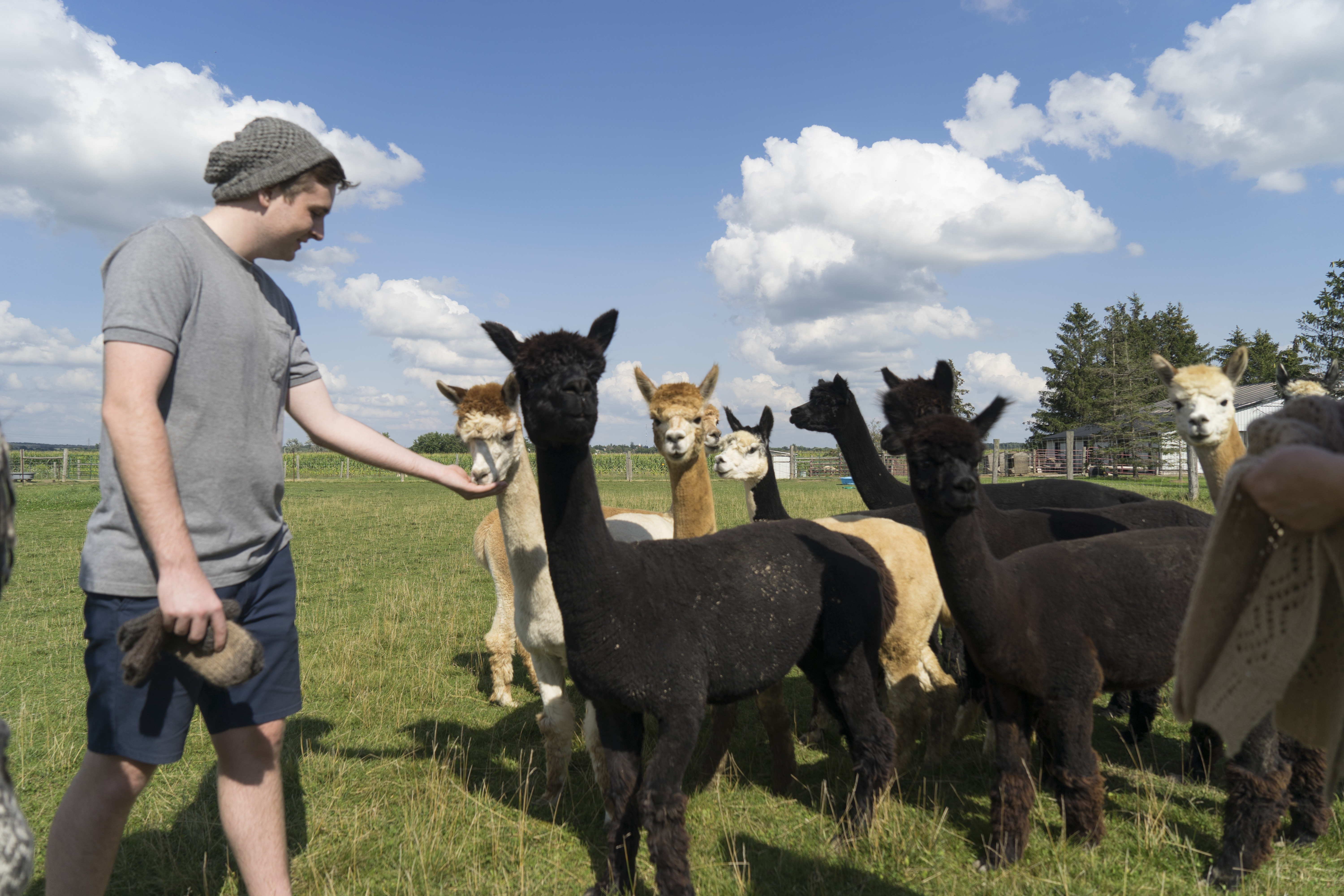 4. Live a Low Stress Life
Studies are consistently showing that stress is significantly higher amongst those living within urban centres. In Perth County, enjoy a slower pace of life and take time to relish in the rural, picturesque area we live and work within. While we at Perth County cannot endorse a guaranteed stress-free life, we can promise that you will feel safe, valued, and relaxed within our rural communities. From short commute times, to authentic and quaint rural experiences, you will have a low-stress lifestyle.
5. Farm to Table: A Core Belief
More than ever, people care about where their food comes from – especially young people. Although this is an increasingly popular trend among urban areas, this has been a consistent and core belief in rural communities for decades. Living in rural Perth County, which is one of the most productive agriculture regions in Ontario, we are positioned perfectly to support our local producers, but also advocate for and teach others about the agriculture industry. Check out Perth County's Farm Gate Map to see where you can pick up your local produce, meat or other delicious eats – when you purchase your goods locally, you really are supporting the 'farm to table' movement.
"It's perfect for Perth County because there's no shortage of suppliers for my food. The roads are nice and quiet for my deliveries. I appreciate all of the infrastructure and road work. And it's so scenic. The response from customers has been amazing – the people here are extremely supportive and fiercely loyal. I'm living out my dream and I love it here." – Jeannine, Entrepreneur
6. Be Community-Minded
One of the most important aspects to me when I think of life in Perth County is the sense of community – as is true for others. Not only does everyone know one another and say hello as
you walk down the street, people are supportive. This sense of community is why people sincerely enjoy the rural lifestyle, along with all the 'quirks' that come with it. There is something to be said about going to your favourite breakfast spot where you are welcomed by name, or the local hospital where you are greeted with familiar faces that will go above and beyond to help. In Perth County you know your neighbours and the community you live in, which is one of the most unique aspects of this lifestyle and makes the rural experience so positive.
7. Be Perfectly Situated
Perth County is geographically located close to major urban centres in Southwestern Ontario – within a one hour drive you can be to London, Kitchener, and Waterloo. In just over an hour and a half, you can be to our province's capital, Toronto. We are perfectly situated to the conveniences of urban centres, yet can still enjoy the rural lifestyle.
8. Be Part of a Safe and Family Friendly Community
As young people looking to start a family or simply finding a place to create a life, Perth County is the perfect place to do this. You can feel safe and secure here, while knowing that we have a low crime rate and the community members support one another. For example, a seemingly simple part of our small-town lifestyle, letting children walk to school, is a sought after luxury for some in urban centres. While we may take these things for granted, they're all aspects that uniquely make this authentic and rural lifestyle what it is.
"80% of my childhood was spent just running around outside. It was amazing. I want my kids to have a similar carefree and fun childhood – and it's a lot harder and certainly much more dangerous for kids to have that in bigger urban centres. I am happy with my life in Mitchell." – Christina, Graphic Designer.
"All of Perth County feels like home. It's simply a great place to be. It was such a great place to grow up and it will be a great place to raise my own family one day." – Joe, Carpenter
9. Live a Picturesque Life
Again, something we simply take for granted – our picturesque landscape. Here, you aren't surrounded by billboards or lights, but rather an endless view of green pastures and farmland that is perfectly accented with Perth County sunrises and sunsets. This is something that urban dwellers yearn for and only experience on weekend cottage adventures – in Perth County, this is our day-to-day reality.
10. Think Global, While Supporting Local
While we are self-admittedly rural and small-town, the innovation happening in Perth County extends far beyond our borders. We have award-winning businesses, one-of-a-kind products that are shipped globally, and agriculture producers who feed cities within Canada and beyond. The idea of being both locally minded, but globally present perfectly sums up the lifestyle within Perth County; we are intentionally simple and small-town, but are innovative and leaders in many sectors.
"I fully believe that people are more likely to seek out a product or service that they can get from a local person or company. I'm convinced that no consumer is more loyal than small towns supporting their local businesses." – Kahley, Entrepreneur
The Tin House: Feeding the Village of Shakespeare!
Hi #HomeGrownInPerthCounty followers!
If you know anything about Perth County, you will know that there is so much delicious food to be had county-wide! Today, I am so excited to highlight a food truck in Shakespeare – The Tin House and its owner's, Jay and Laurie. This food truck specializes in house-made burgers, pulled pork, poutines, hotdogs, and of course, fresh cut fries. Since moving to Perth County in 2017, the couple and their business have seen great success and are currently in their third season!
Jay and Laurie both had an interest in the hospitality industry and lived in a nearby urban centre, where Jay pursued further education in culinary. In 2017, the couple decided it was time for their next big adventure and wanted to fulfill their dream of opening a restaurant. While real-estate was lucrative at the time, they searched online for listings and stumbled upon one in the village of Shakespeare. Beyond the quaint village being picturesque and filled with character, the house they had their eye on came with its very own food truck! In its past life, this food truck was successful and carried with it a loyal following – as its owners were ready to move on, they had placed their home and food truck up for sale. Jay and Laurie viewed this as the perfect opportunity for them to take their dream of opening a restaurant and make it their own. With the venture being relatively low-risk and the support from its previous owners, Jay and Laurie created their vision for The Tin House!
The couple decided Shakespeare was a good fit for many reasons – Jay noted that, "it had good proximity to the city and we had family close by so it didn't feel like we were giving up anything by moving to this small-town." When I asked about the transition moving from an urban area to a rural one, Jay and Laurie smiled – "We love living here, there is a sense of community in Shakespeare and we've felt welcomed by the people that live here" said the couple. Laurie went on to tell me about the immediate support and sense of community they experienced when moving to Shakespeare: "During our first week, Jay and I were trying to hang a sign. Within minutes, the neighbours and other business owners came over to help – this sense of community was overwhelming at first, but a good overwhelming. It's been so amazing getting to know people. When we walk down the street with our dogs, everyone waves – you don't get that in the city."
While Jay works full time at The Tin House, Laurie balances her time working at an engineering firm in a nearby urban centre – however, both are heavily involved in running The Tin House. When asked what advice they would give to others considering opening a business in rural Perth County, their response was simple – "treat the community right and meet with other local business owners, everyone supports one another here, you're not competing. Owning and operating your own business is a lot of work, but it's so rewarding!" Not only vouching for the business and entrepreneurial atmosphere in Perth County, Jay and Laurie also applauded the Stratford-Perth Centre for Business, a resource offered for entrepreneurs and business-owners in the area. The couple used this centre in the early stages of opening their food truck. "While owning a business is a lot of work, our goal from day one has been to have fun and be happy. We may work a twelve hour day when it's busy and we're exhausted by that night, but it's worth it – it's a good exhaustion. When you're working to see your own business succeed, it's a good feeling."
Beyond the community, Laurie and Jay both note that their families have been so important in the process and success of their businesses. While they chose to move to rural Ontario, their family is still a short drive away and is always ready to support them. The couple is excited to see more sustainable growth in the future, with hopes of eventually allowing Jay and Laurie to work full time at the truck.
If you haven't taken a drive to Shakespeare to try the food at The Tin House, you absolutely must! The menu has a wide variety of delicious eats and the truck offers daily specials. What are Jay and Laurie's favourite menu item? "It's always changing – everything is so good," Laurie laughs. Right now, the couple agrees that they love coming up with new weekly features, like the Taco Fries, and the Cheeseburger Egg Rolls – but ask them again in a month, it will most certainly be another decadent item on their menu!
Follow The Tin House on Facebook or Instagram @thetinhouse_shakespeare !
Lavish Salon: Styling a Small Town
#HomeGrownInPerthCounty followers, Meet Ashley!
Ashley is the owner and head stylist at Lavish Salon in Listowel, ON. Five and a half years ago she decided to pursue her dream of opening a salon. With continued success, she has now expanded the facility and employs eighteen individuals!
Originally from Perth County, Ashley completed high school here and then moved to London to study business. Following that, she moved to Kitchener where she chose to pursue her apprenticeship in hair styling. Flash forward to 2013, she decided at the young age of twenty-five that she wanted to open her own business. Why Perth County to do this? For Ashley, this was an easy question – it was home and she knew it was a perfect place to start a family and a career. "You can build a life here – it can be a lot harder in the city. If you are loyal to the community, they are just as loyal in return. For someone opening a business, a small community is the perfect place to do it. You can easily build a book of business and create roots – very quickly your clients begin to feel more like family and friends. Plus, the support you receive from everyone is amazing – if you need a hand, just ask your neighbour."
Ashley never dreamed of the success she has experienced. "It was scary, I signed a five year lease and I wasn't sure if the salon would launch itself as well as it has. By the end of my first year in business, I was completing renovations to expand my salon." A firm believer in the community she is surrounded by, Ashley knows the success is because of just that – "my loyal clients and the community."
As a successful and young entrepreneur, Ashley is now paying it forward by giving other young people their start in the industry. She knows the importance of working with young individuals and providing a path for them – she brings them into the salon early and guides them through the formal education aspect of their apprenticeship. "Young people have minds like sponges – they take in so much information and learn from it – if you bring them on, you can train them and mould them into successful individuals. I always encourage my young employees to go and get their formal training, then return to Lavish where I'll have a position ready for them. They can build a clientele and create roots here so much faster than they would in the city."
What advice would Ashley give for anyone beginning a career or starting a business? "Take time for yourself, your business or career quickly becomes so important in your life, but always leave time for yourself and those most important to you." This advice fits well with a rural lifestyle because people respect this 'you time' and want to support you while you find a work-life balance (a balance that is entirely possible in Perth County.) Another piece of advice – "when you make a mistake or learn a lesson, move forward and focus on what you can change to avoid the same mistake." This is another positive aspect of rural areas, the community is always ready to help you get back on your feet if you've made a mistake.
As a young entrepreneur and mentor for many youth in our region, Ashley certainly proves that you can #ProsperInPerthCounty!
Follow Lavish Salon on Facebook and Instagram at @Lavish_Salon
Acre75.ca: Small Town Roots, Big Time Success
Happy July, #HomeGrownInPerthCounty followers!
We are constantly talking about the amazing entrepreneurs we have in Perth County – they're award-winning in fact! We've previously featured Virginia Ehrlich in our Youth Profile series as part of our #ProsperInPerthCounty campaign in 2018. Today, I am so happy to bring you an update on Virginia and her business, Acre 75.ca!
Acre75.ca is an online store that offers shoppers the luxury of online shopping, while also supporting small businesses and small-town economies. Virginia, Acre75.ca owner, only sells goods handcrafted by makers in small Canadian towns with a population of 30,000 or less. With her forward thinking and community-minded business model, Virginia was the Silver Prize winner of the 2019 FedEx Small Business Grant! I told you, award-winning entrepreneurs are right here in Perth County! With over 1,900 applicants, this contest was designed to provide small businesses with support and financial resources to help them grow and be competitive on both a local and international level. Virginia plans to use this grant to create an online marketing campaign for Acre75.ca.
Virginia and her husband chose to move to Milverton, where they started their family, because it was in the middle of where they both grew up – Mildmay and Wellesley. In addition to this, Virginia mentioned, "We had a few friends here and everything about moving to Milverton made sense – the amenities are fantastic, the housing prices are reasonable, and the proximity to the city is convenient."
Small towns and rural areas are nothing new to Virginia, in-fact they're the inspiration behind Acre75.ca. After growing up in Mildmay, ON on a 75 acre farm, she pursued advertising studies at Conestoga College and then worked in various marketing positions in nearby urban centres. Her dream of becoming an entrepreneur someday was solidified when she started working for a boutique marketing and communications company in Elora, ON. Virginia's boss at the agency, an entrepreneur himself, encouraged her to pursue her dream of starting her own home business in Milverton. "All of the years I drove to the city for work, I felt very disconnected," Virginia mentioned. "I wanted to work in Milverton and enjoy the small-town lifestyle, while still using my marketing and branding background."
Knowing that most online purchases are made on foreign websites and online shopping is becoming more and more popular, Virginia wanted to make sure there was a way for online shoppers – who will shop online regardless – to still support local makers. "I am very proud of my small town rural roots and it was important that my shop reflected this. I love bringing the small towns to people who might not otherwise visit them and my hope is that those people will then take a drive out to the country to see all we have to offer."
Perth County was the perfect place for Virginia to start her business, and she is so glad she did! "I love that it is intentionally simple here, its community minded, and friendly – so friendly. I love being able to walk down the street and say hi to everyone that goes by. It really feels like home here." Aside from the picturesque small-town lifestyle, Virginia made note of the supportive entrepreneurial community that exists within the County. When you're an entrepreneur, it can be isolating – but it doesn't have to be. Perth County is a collaborative area and you just need to ask for help, everyone is happy to lend a hand!
With all of this in mind, we at Perth County would like to extend our warmest congratulations to Virginia and her business, Acre75.ca. She is another example of a young individual who has shown us that anyone can #ProsperInPerthCounty. Let's celebrate our small town, rural roots as Virginia has, they're something to be proud of!
Youth Action Councils
Hello #HomeGrownInPerthCounty followers!
I'm excited to introduce you to one of the fantastic initiatives happening across our municipalities! Have you heard of a Youth Action Council or Youth Advisory Committee (YAC) before?
Perth East and West Perth have paved the way for our youth to be formally connected to the political processes and communities within Perth County. West Perth's Youth Advisory Committee directs and advices Council on youth-related issues. Perth East's Youth Action Council is working to give a voice to youth and to create meaningful change. These YAC's are open to all youth who are interested in participating and allows municipal councils, along with the community, to better understand the needs and desires of Perth County youth.
Not only is a youth council a great opportunity for youth to gain community hours, it also provides them the opportunity to expand their leadership skills, community engagement, and make meaningful change within their municipality.
Both in their inaugural year, our YAC's have seen great success. Perth East is currently planning their first event, and West Perth just completed theirs. With this in mind, let me tell you about West Perth YAC's first annual Amazing Race. This event was held on Saturday, June 8th in Mitchell ON. With five teams participating, the youth organized over twelve different "challenges" across town by asking businesses to host them. Not only did these youth step-up as leaders during this event, the community was right there to support them! From delivering sponsorship letters to organizing how the event would run, the youth did it all. With the assistance of their Adult Allies Abbey and Janelle, the day was a huge success!
When given the chance, our youth are able and willing to step up. These councils are a great opportunity to do so and allow the community and municipal government to not only provide a voice to our youth, but also validate it. If we want our youth to choose Perth County when they look for future employment or a place to settle, we need to encourage them to be invested in our communities now. These councils are the perfect forum to inspire this type of investment.
The Perth East YAC will continue to run in the evenings throughout the summer. The West Perth Council will re-convene during lunch hours at Mitchell District High School in September. If you have questions about our Youth Action Councils, reach out to Paige Harrington (pharrington@pertheast.ca) at Perth East for more information.