Welcome to the Stratford-Perth Archives Blog!
The Stratford-Perth Archives is celebrating a special anniversary this year! In celebration of the 50th Anniversary of the Archives, we are showcasing some treasured items from our collection! Stay tuned on social media for a new treasure each week. If you have any questions about the treasures or are interested in learning more about the Archives, please call 519-271-0531 ext. 259 or click here to email the Archives.
On this page:
---
Fred Ubelacker's Amateur Photographs Created Using Glass Negatives
Posted June 23, 2022
After fifty years of operation, Stratford-Perth Archives houses an ever-growing collection of material that is carefully preserved and made accessible for researchers from not only Perth County, but around the world. One of the ways that we are celebrating the Archives' golden anniversary is by highlighting fifty "treasures" from the collection in our weekly local history articles throughout 2022. The treasure for week 3 is the Ubelacker Glass Plate Photo Negative Collection.
Frederick Ublelacker, born in 1869 in Stratford, was an avid photographer and the founder of the Stratford Camera Club in 1900. Fred's collection of negatives was donated to the Archives by his grandson in 1975 and is a rare early record of candid shots of daily life. The young girl in the image accompanying this article is unidentified, but it may be Fred's daughter Shirley. She is enjoying some time outside with her doll, cat and bird. The original glass plate is shown with the print.
In 2006, the Archives in conjunction with Gallery Stratford and photographer Terry Manzo; who printed the black and white photos from the 300-plus original glass plate negatives, showcased the images in an exhibit held at the Gallery entitled The Archives Project: The Photographs of Fred Ubelacker. These photographs depicted a wonderful playful quality of not just the photographer but his subjects. Some of the photos shown were children tobogganing, a small child in a buggy pulled by a dog and the family's pet monkey and chickens too. Fred liked to do trick or experimental photography. He would expose two or three images of the same person in one photograph.
The Ubelacker family was a well known and respected family that had lived in Stratford since 1855. The family originally came from Saxony in Germany. Christian, a butcher, and his wife Johanna came to Canada c. 1847 with their family. Their three children: Henry (1838), Frederick (1844-1863) and Pauline (1848-1869), were born in Saxony; they also had another son Hermann (1852- ?) born in Canada. When they arrived in Canada, they settled in the surrounding area of Seebach's Hill. In 1855, Christian moved the family to Stratford and established a meat business with his partner George Larkworthy. This was the beginning of four generations owning this business.
Christian's son Henry joined his father in business, and when Christian passed away in 1864, Henry took over the business. In 1888, Henry purchased the property at the corner of Market Place and Wellington Street; where Cora Corture is today. It was here that a new building for the meat market was built. If you look today, you can still see the business's sign on the side of the building.
Henry married Jane Glendinning in 1865 in Streetsville, Ontario, where she was originally from. They had three children, all born in Stratford. A son and two daughters: Ada Marie (1868-1923), Frederick (1869-1943) and Lillian May (1873-1937). Besides being in the meat business, Henry also served as the fire chief of the volunteer fire brigade in the early years of Stratford. He was also a city councilor and a high school board trustee. Henry passed away in 1926.
In 1909, Henry's son, Fred took over the business, after being a partner for eighteen years. This making him the third generation of Ubelackers in the business. Fred married Mary Alice McBrine in Stratford on September 15, 1891. They had five children: Harry (1892-1979), Gordon (1895-1963), Lorne (1897-?), Eldon (1899-1969) and Shirley (1904-1987). Besides being an avid photographer, he was also a member of Avon Lodge I.O.O.F for 35 years. Fred passed away on September 3, 1943.
Fred's two sons Gordon and Eldon continued with the business until 1954. At that time, they sold the business name, abattoir and equipment to Gerhard Weidman. This was the first time in 100 years that an Ubelacker was not at the helm of the meat business.
---
Thomas Edison's Original Application to the Old Time Telegraphers
Posted June 16, 2022
On his membership application for the Old Timer Telegraphers' and Historical Association inventor Thomas Edison (1847-1931) tells us that he was a telegraph operator in Stratford while working on the Grand Trunk Rail Road in 1863. In 1940, to mark the premier of the movie Young Thomas Edison, starring Mickey Rooney, a plaque was placed at the Stratford train station commemorating his brief time working here. When celebrations took place for what would have been Edison's 100th birthday in 1947, the Mayor of Stratford was presented with the original membership document as a keepsake. Like many other local history treasures it was put into the hands of R. Thomas Orr (1870-1957) for safekeeping. The document arrived at Stratford-Perth Archives in 1972 as part of the Orr family collection. But how did the famous American inventor end up in Canada, and in Stratford of all places?
Thomas Alva Edison was born in Milan, Ohio on the 11th of February 1847, but his parents had Canadian ties and even lived in Ontario for a short time. His father, Samuel Edison Jr., was born in Nova Scotia but his mother was born in New Jersey. After their marriage, they moved from New Jersey, USA to Vienna, Ontario in Elgin County. Samuel joined the Mackenzie Rebellion in Southern Ontario and when it failed he fled back to the United States. Nancy and their children soon followed him and they ended up in Milan, Ohio. The couple had three more children; Thomas being the youngest of the seven.
Around 1854, Thomas and his family moved to Port Huron, Michigan. He had little formal education as he only attended school for a few months. He was taught mostly by his mother, and did some learning on his own. By thirteen, he took a job as a newsboy selling newspapers and candy on the rail line that ran through Port Huron to Detroit. It was reported that he set up a laboratory in the baggage car for his chemistry experiments and even smuggled a printing press onboard. Using the press, he started his own newspaper the Grand Trunk Herald, this was said to be the first newspaper published on a train. An accidental fire in the lab forced him to stop his experiments onboard.
Frequent trips along the Grand Trunk Rail Way allowed Edison to become friendly with station master and telegraph operator James Mackenzie at the Mount Clemens station. In August 1862, Edison was standing outside the Mount Clemens station and saw Mackenzie's young son Jimmie playing on the tracks. He then noticed a boxcar coming into the station at high speed so he jumped into action and grabbed Jimmie before the car struck either of them. As a thank you, James offered to teach Edison Morse code and how to use the telegraph.
Edison picked both up quickly and by 1863 he began working as a full-time telegraph operator on the railway. His first job as an operator was said to have been with the Grand Trunk Rail Way at the Stratford Station. It was also reported that he worked at the Junction Station in St. Marys, and the Camlachie (in Lambton County) to Stratford Line. While working at the Stratford Station, and according to his membership application, he was a night operator. This job was short lived as his innovation lead to his termination. Edison had reportedly invented a repeater telegraph that automatically sent an all clear signal down the single line of track to St Marys every 20 minutes. He would leave this on and usually doze off. One night in 1864, two trains nearly collided. Thankfully the two engineers saw each other and tragedy was avoided.
The story goes that, due to his negligent actions, Edison was asked to the office of the general manager of the Grand Trunk Rail Way in Toronto. He expected to be jailed or fired on the spot, so during the meeting he slipped out a side door and caught a train back to Stratford. He quickly packed his things and took off for the United States.
Jumping forward to 1904, Edison was living in Orange, New Jersey and was working as a full-time inventor. On his membership application for the Old Timer Telegraphers' and Historical Association, he credits the city of Stratford as the place where he formally started his telegraphing career. Even after fleeing Canada, he continued telegraphing, citing his answer to question nine on his application "Has service been continuous" he wrote, "wandered over the map of the US for 5 year, working for the US [Western Union]". It appears that he migrated from city to city taking any available telegraph job before devoting himself as a full time inventor.
---
First Minute Book For Perth County Council (1853-1858)
Posted: Thursday, June 9, 2022
Stratford-Perth Archives is celebrating a special anniversary this year! On January 13, 1972 work began on a project to protect the Orr Family Collection of local history books, documents and photographs plus archival material from the Perth County Historical Collection and make them easily available for researchers. Both collections had been growing at Stratford Public Library since the early 1900s. Eventually, similar collections from around the County were added. Local governments transferred records no longer needed for day to day work that have permanent value. After fifty years of operation, Stratford-Perth Archives continues to house an ever-growing collection of documents that are carefully preserved and made accessible to researchers from around the world.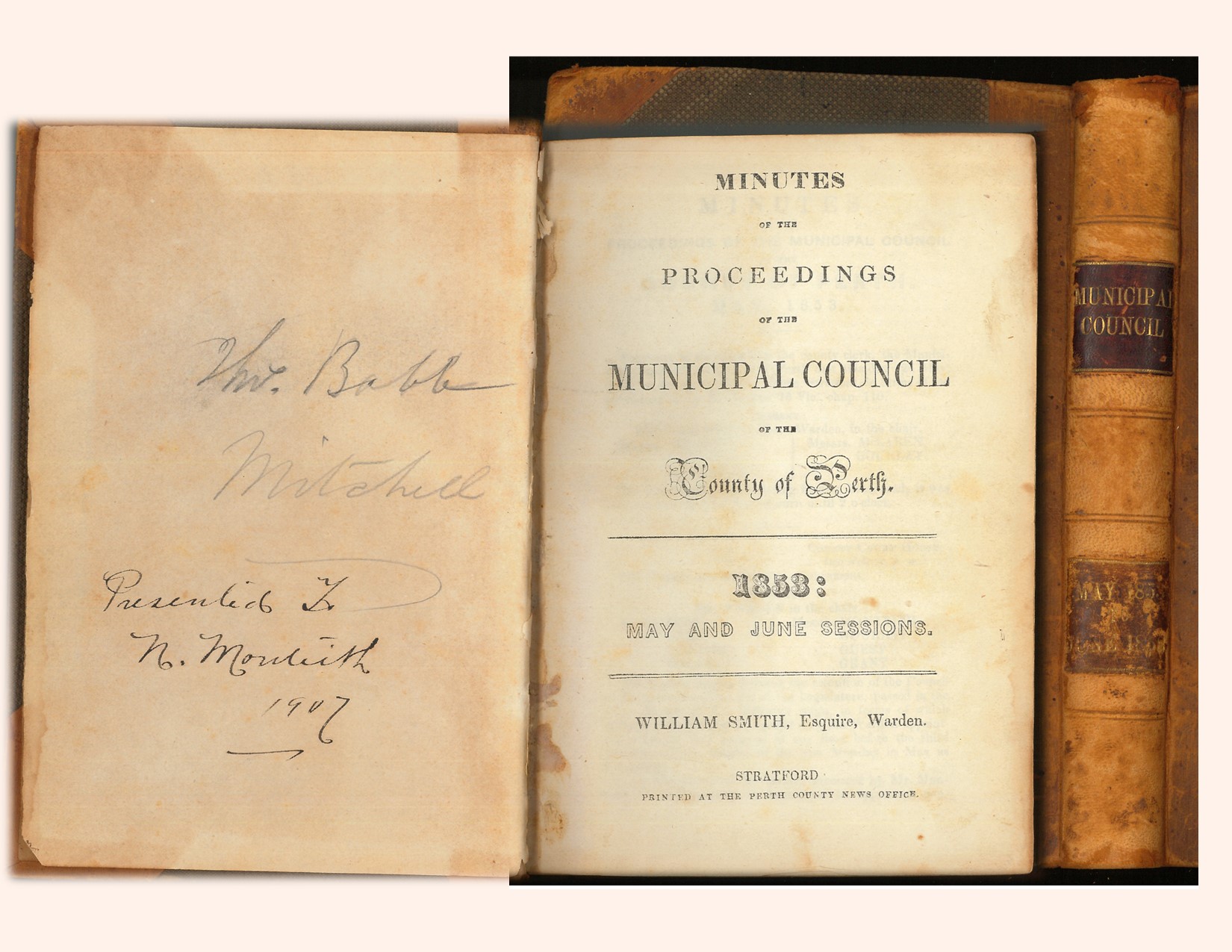 One of the ways that we are celebrating the Archives' golden anniversary is to highlight fifty "treasures" from these collections in our weekly newspaper articles. Choosing 50 items from among the thousands and thousands in the Archives is not easy!
This week's treasure dates back to the first year of operation for the newly independent Perth County Council, which included representatives for rural townships and unincorporated villages like Stratford and St. Marys. Prior to 1853, the County had been a part of the Huron District and the United Counties of Huron, Perth and Bruce.
This printed and bound set of minutes from Perth County Council's first five years was donated to the Archives in 1987 by the family of Samuel Nelson Monteith (1862-1949). Monteith was MPP for the riding of Perth South from 1899 – 1908 and Minister of Agriculture. Before he was elected to the provincial legislature, Monteith had been County Warden. A note inside the cover records that before the book was presented to him in 1907, it had belonged to Thomas(?) Babb from Mitchell. Clearly, it was treasured long before arriving at the Archives 80 years later.
These Council minutes show early, local democracy in action and many of the decisions recorded still affect our lives today. In 1853, Council petitioned the Canada Company for a grant in or near Stratford as a site to build a county grammar school, allowed Mr. Linton to use a room in the new County Buildings for meetings of the managers of the mechanic's institute (forerunner of a public library), and, created a subcommittee to report on the bridge being constructed over the Thames River in Mitchell. They also agreed "that the proceedings of the Municipal Council of the county of Perth, at its various sittings during the year 1853, be inserted in the Hamburg Beobachter (a German language newspaper) and that one hundred copies of the same be published in pamphlet form." Monteith's copy was one of one hundred such pamphlets printed in English in Stratford at the Perth County News Office, which also included announcements about Council's discussions and decisions.
In a similar kind of treasures exhibit at the New York Public Library, curators considered "What is it that makes a particular object special? Is it its age, or its rarity? Its uniqueness or beauty? Is it of great scholarly importance? Does it provoke strong emotions? Is it a curiosity? Does it demonstrate the potential to enhance the lives of future generations? Is there an extraordinary story it tells about the workings of science or the culture in which we live?" We invite you to consider these questions when reading about our community treasures as we celebrate 50 years of local archives in 2022.
---
Check out our past blog posts below:
2021 - City of Stratford Historical Directories Now Available Online!
City of Stratford Historical Directories Now Available Online!
27 September 2021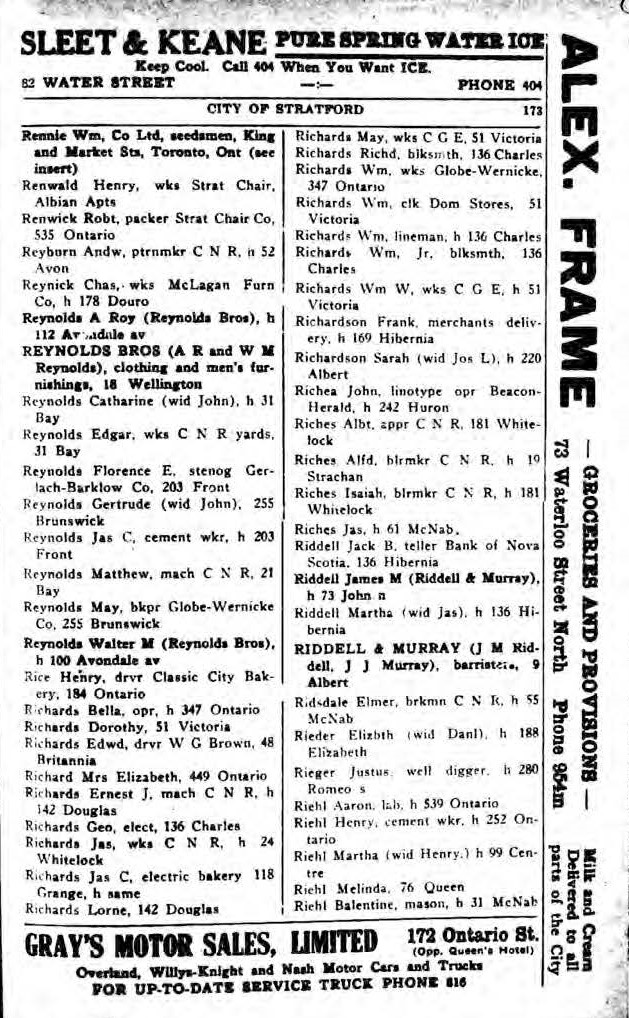 In 1924, John Richea lived at 242 Huron Street in Stratford and he was employed at the Stratford Beacon Herald as linotype operator. His neighbour two doors down, at 323 Huron Street, was Mrs. Mary Kinsman, the widow of William J. Kinsman. Down the street at 286 Huron Street, on the corner of Huron and Avondale, their neighbour was Herber J. L. Eedy who was the owner of Eedy's Bakery, which was located at 27 Market Place, where he sold breads, cakes, and other assorted baked goods.
How can one discover this much information, particularly when 1924 was not a census year? From Vernon City Directories of course! Directories can help fill in gaps between census' and help track family members or local businesses on a yearly basis.
City Directories were a popular form of publication from the mid-1870's until the mid-2010's. Each directory typically contained both an alphabetical listing of all residents by last name and a listing of residents by street. It also included a business index as well as various advertisements for local businesses on each page.
The first two directories of the City of Stratford, 1876 and 1880-1881, were compiled and published by William W. Evans. The third, 1896, was published by Union Publishing Company. From 1898 and onward the directories were published by Vernon's City Directories.
Vernon Directories was started by Henry Vernon (1850-1919) who was born in Kent, England. Around 1874, he immigrated to Hamilton, Ontario and began working for William Henry Irwin. William Irwin (1832-1900), originally from Ireland, had been publishing directories for about thirty years in many cities including Toronto, Hamilton, and Montreal. Vernon began taking over the business around 1897 and established Henry Vernon & Son publishing.
Vernon ran the business until his death in 1919; his son Alfred Vernon (1882-1941) took over as the heir of the company. Alfred eventually became president of the Canadian Division of the Association of North American Directory Publishers for a period while still maintaining Vernon's Directories. In 1933, Vernon moved the office in Hamilton from the Lister Block to 29-31 Rebecca Street. The printer of the directories also changed from the Hamilton Typesetting Company to Griffin & Richmond Company Limited.
Over the next several decades, Vernon's Directories became a subsidiary of many other companies while maintaining its trademark Vernon name. Some of the owners include: The Richmond Brothers (Bert and Ken), owners from ca. 1941 to 1955; The Seldon Family including Don Seldon, David Seldon, and Stuart Seldon from 1955 to 2009; and finally, the last owners from 2009-2016, Wally and Beth Cooper.
The Stratford-Perth Archives is proud to announce that their historical directories for the City of Stratford are now equally available to all researchers through their website. To access them, navigate to the Archives homepage and click the Finding Aids and Digitized Collections tab. Once the page has loaded, scroll down to the bottom and open the "City of Stratford Directories" tab. Most of the directories are keyword searchable, please click Ctrl + F on your keyboard to bring up the search bar in the document once it has opened in a new bowser window. Happy searching!
2020 - Archives in the time of Coronavirus
Archives in the time of Coronavirus... posted 27 August 2020