This page is a companion to the Perth County History exhibit that explores the history of Perth County, its Wardens, and the Perth County Courthouse. This initiative was created and launched in honour of the 2021 Wardens election.
The physical exhibit is displayed in the lower level 1 hallway of the Perth County Courthouse in Stratford located at 1 Huron Street in Stratford. This page is an extension of the exhibit posters and offers additional detail, information, and images. Posters from the physical exhibit are also included below. Click each section below to learn more about the history of Perth County, its Wardens, and the Perth County Courthouse!
History of Perth County
Click here to view the exhibit poster exploring the History of Perth County.
Keep reading below to learn more about the Early history of Perth County!
Early History of Perth County
As the continental glacier receded thousands of years ago and the environment warmed, Indigenous peoples cared for the land that is now Perth County. We recognize and are grateful for all First Peoples' continued stewardship of the land and waters.
The Canada Company formed in England in the 1820s. Their goal was to buy land to sell at a profit for their investors. The Company purchased approximately a million acres known as the Huron Tract from the Crown (part of the Huron Tract Treaty) which they then promoted to European settlers looking for farms. By 1828, Fryfogel's and Seebach's taverns were established on the new Huron Road. Land just north of the Huron Tract was often referred to as the Queen's Bush. Elma, Mornington and Wallace Townships were all carved from this area.
Municipal Government in Perth County
"Municipal government in Perth County began with the holding of township meetings in four townships around Stratford in January 1836 under the authority of the London District Court of Quarter Sessions... The township ratepayers had a very limited degree of democracy in electing pathmasters (road superintendents), fence viewers, pound keepers (animal control) and a township clerk, as well as school trustees. All money and taxes were dealt with at London, and after 1841 when the Huron District was formed, at Goderich. Democracy only arrived at the upper tier in 1842 with the establishment of District Councils which were made up of councilors directly elected from each settled township. These took over the power to make local bylaws from the local Court magistrates. The head of these new councils was appointed by the Governor-General and called the Warden. Councils were granted the right to elect their Warden in 1847.
The full municipal system that we know today, with its two tiers of local government, was created in 1850 with the Baldwin Act, the first municipal act. This gave the townships and cities, towns and villages, their own incorporated municipal councils headed by reeves or mayors. The old District Councils were replaced with County Councils which covered smaller areas. In this process, the counties of Perth and Bruce were carved out of the Huron County that replaced the district, although they remained part of the United Counties of Huron, Perth and Bruce until they could build their own court house. The new County Councils were made up of the reeves from each municipality within the county except cities and separated towns…
When the new Perth County Council met for the first time in the Court Room of the new Court House at Stratford on January 24, 1853, at 12 noon, the council consisted of eight reeves and two deputy reeves representing all eleven townships. The township of Mornington was still attached to Ellice, and the townships of Elma and Wallace were attached to Logan. Downie and Blanshard Townships had the most people and therefore were represented by two members. However, none of the villages (Stratford, St. Marys, Mitchell and Shakespeare) were incorporated yet. The total population of the county was about 18,000. The first Warden of the new county was William Smith of Downie who had also been Warden of the provisional county in 1850 and 1852.
The development of the county proceeded very quickly, with the incorporation of Stratford (1854), St. Marys (1855), Mitchell (1857) and Listowel (1867) as villages. These took their own seats on county council. However, the first two later separated from the County government – Stratford when it became a city in 1885 and St. Marys after it became a town in 1864. In the 1870s, Listowel and Mitchell became towns within the county and were joined by the village of Milverton in 1881. So from 1885 to 1997, the county consisted of fourteen municipalities – eleven townships, two towns and one village."
Maps of Perth County
In 1951, County Clerk-Treasurer Fred Armstrong dug out an original 1879 Atlas from the Perth County vault and it was noted that over 100 years ago that April that Perth's first Warden was appointed. The Atlas contains an early history of the County as well as several town and townships maps; [click here to view the entire Atlas digitally]. The Warden, Willliam O. Gaffney, was thrilled and suggested that Perth County should have some sort of history complied. An article appeared in the London Free Press marking the occasion. Below is an image from the article, click here to read the full article.
Warden William O. Gaffney (left), Clerk-Treasurer Fred Armstrong (middle), South Easthope Township Reeve J.J. Krug (right), 1951, courtesy of Western University Archives & Special Collections.
---
For a comparison of Perth County, here is the County map from the original 1879 Atlas (left) and a Road map of the County from 1940 (right).
Wardens of Perth County since 1850
Note: At the bottom of the list is a small selection of photographs of past Wardens. Names with an * beside them note that there is a photo of them at the bottom of the Wardens List.
Warden
Municipality
Dates

Perth County as a Provisional Council

William Smith*

Downie

1850

Sebastian Fryfogel

South Easthope

1851

William Smith*

Downie

1852

County of Perth

William Smith*

Downie

1853; 1854

Thomas B. Guest

St. Marys

1855; 1856

Alexander Hamilton

North Easthope

1857

A.B. Orr

Stratford

1858

Alexander Grant

North Easthope

1859

Andrew Monteith

Downie

1860

William Smith*

Downie

1861

Andrew Monteith

Downie

1862; 1863; 1864

Thomas Ford

Fullarton

1865; 1866; 1867

Thomas Stoney

Stratford

1868; 1869

James Trow

North Easthope

1870

Robert Jones

Logan

1871

Thomas King

Hibbert

1872

Robert Jones

Logan

1873; 1874

William Davidson

Fullarton

1875; 1876; 1877; 1878*until Sept. 30

Robert Keyes

Logan

1878* begun Oct. 1

John McDermott

Wallace

1879

Valentine Kertcher

Mornington

1880

Jacob Brunner

Downie

1881

W.F. Sanderson

Blanshard

1882

Thomas J. Knox

Elma

1883

James Dougherty

Mitchell

1884

Thomas J. Knox

Elma

1885

George Leversage

Fullarton

1886, 1887

Alexander McLaren

Hibbert

1888

W.B. Freeborn

Mornington

1889

John McMillan

North Easthope

1890

John Schaefer

South Easthope

1891

Andrew Kuhry

Ellice

1892

George V. Poole

Wallace

1893

J.A. Hacking

Listowel

1894

Thomas Coveney

Logan

1895

Thomas Ryan

Hibbert

1896

Nelson Monteith

Blanshard-Downie

1897

James Torrance

Ellice-Milverton-Mornington

1898

Thomas E. Hay

Listowel-Wallace

1899

W.F. Sanderson

Blanshard-Downie

1900

James Dickson

Elma-Logan

1901

Charles Merryfield

Elma-Logan

1902

R.T. Kemp

Listowel-Wallace

1903

Robert Berry

Blanshard-Downie

1904

James Donaldson

Elma-Logan

1905

Robert Armstrong

Ellice-Milverton-Mornington

1906

J.A. Hacking

Listowel

1907

Conrad Hasenpflug

Milverton

1908

David Bonis

Blanshard

1909

L.F.W. Turner

Fullarton

1910

John Rudolph

Logan

1911

J.A. McLaren

Hibbert

1912

James Hill

Mitchell

1913

Samuel E. Smith

Wallace

1914

William Scott

Elma

1915

M.F. Irvine

Blanshard

1916

Oliver Harris

Fullarton

1917

Robert Armstrong

Ellice

1918

Samuel Smith

Elma

1919

John McCallum

North Easthope

1920

Werner Krug

South Easthope

1921

A.A. Colquhoun

Hibbert

1922

Thomas Boyes

Downie

1923

Michael Hagarty

Logan

1924

Arthur Mutton

Mitchell

1925

H.A. Beggs

Mornington

1926

P.L. Tye, M.D.*

Milverton

1927

J.M. Kincaid

Wallace

1928

George Keith

Blanshard

1929

Aaron Ringler

Listowel

1930

W. Angus Dickson*

Elma

1931

Conrad Schmidt

North Easthope

1932

William F. Dalling*

Logan

1933

D.M. Arbogast

Ellice

1934

W.W. Roger

Fullarton

1935

W.S. Donaldson

Elma

1936

G.H. Jose, D.V.S.

Blanshard

1937

George Ronnenberg*

Mitchell

1938

W.H. Good*

Wallace

1939

A.J. Bradshaw

Downie

1940

Donald McCallum

North Easthope

1941

William J. Kay

Hibbert

1942

Alfred Denstedt

Milverton

1943

Theodore Parker

Ellice

1944

James N. Corry

Elma

1945

William A. Tuer

Fullarton

1946

Alex Anderson

South Easthope

1947

Martin Mogk

Mornington

1948

J. Gordon Burt

Listowel

1949

Oscar Nickel

Listowel

1949, pro term

John J. Vosper

Mitchell

1950

William Gaffney

Logan

1951

Harold Consens

Wallace

1952

Frank Allen

Hibbert

1953

John A. Stephen

Blanshard

1954

Willoet Kelterborn

Milverton

1955

William Jack

Mornington

1956

Fred Ratz

Fullarton

1957

Earl Boyes*

Downie

1958

T.C. Thompson

Elma

1959

Walter Mogk

Ellice

1960

Howard Lowe

South Easthope

1961

Walter Gerth

Milverton

1962

Willard Mohr

North Easthope

1963

David White

Blanshard

1964

Rudolph Bauer

Logan

1965

Albert E. Carson

Wallace

1966

Wilfred Seebach*

Fullarton

1967

Ellard Lange

South Easthope

1968

Lawson Cross

Listowel

1969

Ross McPhail

Hibbert

1970

Wilbert Herman

Ellice

1971

Roy Robinson

Elma

1972

John L. McKay

Downie

1973

Lloyd Morrison

Fullarton

1974

George Wilson

Mornington

1975

Edward C. Doerr

Ellice

1976

Don M. Simpson

Blanshard

1977

Rae Bender

Wallace

1978

Term beginning in December

Ormond J. Pridham

Fullarton

1978-1979

Carl Vock

Logan

1979-1980

Wilfred J. Tuer

Downie

1980-1981

Elsie Karges*

Listowel

1981-1982

John Lindner

North Easthope

1982-1983

Glynn Coghlin

Elma

1983-1984

Oliver T. McIntosh

Fullarton

1984-1985

Ronald Denham

Blanshard

1985-1986

Jim Spence

Mitchell

1986-1987

Amos Gerber

South Easthope

1987-1988

Ivan Norris

Hibbert

1988-1989

Ted Illman

Logan

1989-1990

Bert Vorstenbosch

Fullarton

1990-1991

Vince Judge

Listowel

1991-1992

Robert McTavish

North Easthope

1992-1993

Robert Mathers

Elma

1993-1994

Walter McKenzie

Hibbert

1994-1995

John Van Bakel

Logan

1995-1996

Don Hacking

Fullarton

1996-1997

County Council restructured January 1998 (term beginning December except 1998)

Dave Shearer*

Perth East

1998; 1998-1999; 1999-2000

Vince Judge

North Perth

2000-2001

Ed Hollinger

North Perth

2001-2002

Annabell Thomson

Perth South

2002-2003

Ian Forrest

Perth East

2003-2004

Ed Hollinger

North Perth

2004-2005

Barb MacLean*

West Perth

2005-2006

Ron McKay

Perth South

2006-2007

Ron McKay

Perth South

2007-2008

Julie Behrns

North Perth

2008-2009

Julie Behrns

North Perth

2009-2010

Julie Behrns

North Perth

2010-2011

Ian Forrest

Perth East

2011-2012

Vince Judge

North Perth

2012-2013

Bob Wilhelm*

Perth South

2013-2014

Bob Wilhelm*

Perth South

2014-2015

Mert Schneider

North Perth

2015-2016

Mert Schneider

North Perth

2016-2017

Walter McKenzie

West Perth

2017-2018

Walter McKenzie

West Perth

2018-2019

Jim Aitcheson

Perth South

2019-2020

Jim Aitcheson

Perth South

2020-2021
A selection of photographs of past Wardens: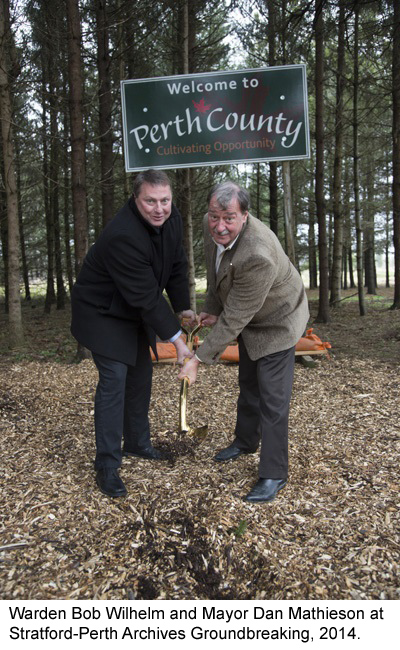 Perth County Council Today
Click the image above to view a larger version of the poster.
Perth County's First Official Buildings
Perth County's first courthouse stood north of the Avon River in Stratford, just east of St. James Anglican Church, overlooking William Street.
A land registry office and county jail were built on the same property. These buildings were required before Perth County could completely separate from the former Huron District / United Counties of Huron, Perth and Bruce. Perth County Council reluctantly complied and began operating in their new buildings in 1853.
Officials declared that their offices weren't much bigger than the cells in the jail, describing them as "dark, miserable little dens…arranged on each side of a narrow passage…like rat holes." The courtroom had windows set high above the floor causing severe problems with ventilation.. Each year a grand jury of 24 people was selected to report on the conditions of all county property and frequently their findings were critical of the court room and the dampness of the jail cells. Finally, a judge moved his court to the spacious concert hall over at the Stratford Town Hall and County Council decided to make a change.
Building the Current Perth County Courthouse
In March 1884, prominent architect George F. Durand (1850-1889) was hired to design new buildings to stand on one of the most prominent sites in the city. As a result, Perth County moved from having the worst set of county buildings, in Ontario to the best. Local contractors, Scrimgeour Brothers, who had their shop nearby, began construction in 1885, with the jail opening in 1886 and the courthouse in 1887.
Today, Perth County has one of the most magnificent courthouses in Ontario with many of the original building features intact. It is an excellent example of High Victorian architecture, combining bichromal masonry and a variety of other building materials, not to mention architectural styles.
Italianate brackets adorn the cornice, while Queen Anne style is evident in the medieval tower, moulded brick chimneys and multiple paned windows. Richardson Romaneque features include the round arch windows stretching over two stories, heavy doors, rusticated basement foundation, wall dormers which peak with a gable at the top, and miniature columns.
Durand was involved with many prominent building projects, including the New York capitol building in Albany and Upper Canada College. He left a marvelous legacy of exquisite buildings in this area - the Stratford Pump House (now Gallery Stratford), the original Stratford Hospital (now Avoncrest), and Knox Presbyterian Church in Listowel along with the Perth County Court House and Jail.
Click here to view the exhibit posters on the Perth County Courthouse.
First Glimpses of Handsomest and Best Appointed Courthouse in Canada
The Stratford Beacon Weekly newspaper had a front page story on April 29, 1887 under the headline "Handsomest and Best Appointed Courthouse in Canada." The article goes on…"with the single exception of Hamilton perhaps, Perth County will have the finest county buildings in the Province, both as to architecture and internal finish and equipment. The finishing touches are being put to the outside, with the placing of the terra cotta figures in their places. In the basement are a number of fire-proof vaults for public documents; the janitor's rooms, well lighted and comfortably finished; the heating apparatus, consisting of two large boilers for distributing hot water, and closets and urinals fitted up in the most modern style. Internally, the building is a model of elegance, the finishing being in white pine and the stairway and furniture of oak, all brightly finished.
The first floor will be occupied by the various officials, legal and municipal, each office having a private room and vault for the safe keeping of documents. This floor contains the offices of the sheriff, county clerk, county treasurer, local registrar, with the county judge's and county attorney's rooms. On the second floor are the court-room, council and grand jury room, petit jury rooms, law library and barristers' rooms. In the court-room itself from the judge's chair to the dock for the prisoner, everything is on a costly and magnificent scale. The floor, from the recess for the judge's seat to the windows on the other side of the room, commanding a fine view east on Ontario-st, is on a gentle rise, and is traversed by a series of wide steps. The centre chandelier is a beautiful and noteworthy object, and will contain about fifty lights. The chandelier for the grand jury room is also a beautiful thing, made up of four branches of three lights each in imitation of wax candles. Just inside the main entrance, to the right, is a fine slab of Tennessee marble, on which are inscribed the names of the present county council, the buildings committee and the architect, Mr. G.F. Durand; the sculptor, Mr. John Matheson; and the contractors, Messrs Scrimgeour Bros. This slab will be framed in a massive ornamental border of terra cotta.
At the first landing of the main staircase is a grand stained glass window, the various panes of which are symbolical of the arts &c [etc.]. The top pane is taken up with the Canadian coat of arms. The floor of the tower room and first floor hall are laid with English tile. Viewed externally, the building is plain, but, aided by the trimmings, which are of Credit Valley red stone, and the various panels in terra cotta, it presents a pleasing look and is a pile of which Perth may well feel proud. In the centre pediment is a panel with three figures that in the centre representing Lax, and the cherubs on either side bearing respectively the Scales and Sword of Justice. Under each of the three centre windows are two panels, representing Justice with the Sword and Scales; Architecture, Mechanics, Agriculture and Art. In the centre pediment are also two medallions with heads representing Manufacture and Agriculture, and crowning the pediment will be a lion holding a shield. Over the main entrance is a panel bearing the Perth County coat of arms, with the inscription County of Perth Court-House. In the front of the tower are inserted two fine medallions in the design of a rosette.
Two such medallions appear also on the south side of the building, which with the north side, is rather scant of ornamentation. The inside is nearly finished, except the putting in of the furniture, which is being manufactured in a neighbouring city. The work on the outside is keeping pace with that of the inside, with a view to, if possible, holding the next assizes in the new
The official opening for the Perth County Courthouse took place on May 9 1887. County Judge James Peter Woods declared that it was "a beautiful temple of justice erected in place of the old courthouse where people were in danger of their lives. The building is a credit to the county and an ornament to the province." building which will be formally opened in June. The supervision of the work has been in the hands of Mr. J.R. Kilburn, architect and over the whole Mr. William Davidson, the county clerk has exercised a watchful care, and it need not be said that he has had a keen eye to the public interests. The building, with its surroundings, will, when finished, be another monument to the skill of Mr. G.F. Durand, the rising architect, to whom the design was entrusted.
---
Fun details to note: The architect added his signature to one of the terra cotta panels on the front of the building. If you look closely, you can see "G. F. Durand / Architect" engraved into one of the tools on the terra cotta tile (left). Another signature was found on tone of the tower bricks, it reads "W. McMillan". It is assumed that one of the workers who built the tower also left his mark.
Grand Staircase and Stained Glass Windows
Click the image above to view a larger version of the poster.
Superior Courtroom and Law Library
Click the image above to view a larger version of the poster.
A Mysterious Painting
Lorne Brothers spent many hours searching for a "match" to the face in this painting [see painting on right] after it was discovered in 1973, finally finding one among a group of "Perth's Parliamentarians of the Past" in the Stratford Beacon's 50th anniversary edition of 1905. A note found tacked to the back now identifies the subject as Robert McFarlane M.P. for Perth in 1867…Painting found above the false ceiling of the women's washroom in the courthouse... Someone remembered seeing the name "Forster" on the frame.
Robert MacFarlane was born in 1835 in Lanark County. He set up his law practice in Stratford in 1857 with Daniel Home Lizars. When Lizars was appointed County Judge in 1864, MacFarlane entered into practice with John Idington, who became Perth County's Crown Attorney and Clerk of the Peace, and later, a judge of the Supreme Court of Canada. By this time, MacFarlane had been a member of parliament for a year, having beaten T.M. Daly in a hotly contested election. He was re-elected in 1867 to represent the Perth South riding in the first parliament of the new Dominion of Canada.
MacFarlane died in office in 1872, just thirty-seven years old. He and his wife Mary had buried their only child, an infant son named Woods, earlier that same year. Most members of the House of Commons accompanied MacFarlane's body to the train station in Ottawa. He was brought back to Stratford by "a deputation from St. Marys, Downie and Stratford" and was buried in Avondale Cemetery with his son. The Stratford Beacon newspaper reported that "the funeral was perhaps the most imposing ever witnessed in town."

Though J.W.L. Forster was only a young apprentice artist when MacFarlane died, it is clear that he later painted portraits based on photographs and descriptions of historical figures. The tragedy of MacFarlane's sudden, early death and his connection to the first Dominion Parliament would have made him an appealing subject for Forster. Forster's cousin, Dr. F.J.R. Forster, lived in Stratford and may have brought the story to the attention of the artist.

That the painting is a portrait of Robert MacFarlane by J.W.L. Forster is clear. How on earth this portrait of a prominent citizen, rendered by an internationally renowned Canadian artist, ended up on top of the false ceiling of the ladies washroom of the Perth County Courthouse remains very unclear.
A Mysterious Terra Cotta Artist
Click the image above to view a larger version of the poster.
Preserving an Architectural Gem
Click the image above to view a larger version of the poster.
Perth County's Other Historic County Buildings
Click below to learn more about the Perth County Jail and the Land Registry Office buildings.
Perth County Jail
The present Perth County Jail was designed to match the courthouse by the same architect, George F. Durand, and erected at the same time. It opened in 1886. The province took over operating the jail in 1968.


Land Registry Office
In 1910, a new land registry office was built at 24 St. Andrew Street to replace the original 1850s building still operating at the apex of Hamilton and Mornington Streets. While not designed by the same architect, 24 St. Andrew Street was built to match the 1880s County Courthouse and Jail.
In 1957, the current registry office / Service Ontario building was built by Pounder Brothers. At that point, 24 St. Andrew St. was used for other county services, most recently from 1981 – 2015 as Stratford-Perth Archives. The Archives new home is a state of the art, purpose-built building just west of Stratford.